The KADA Station is under your property.
This Property is almost next to the Nankai KADA station.
It takes about 2 or 3 minutes from there by walk.
You can see your property from the Kada station.
Of course it is good for your business.
I can help your accommodation business in Japan.
Because We already have some licence and we are living in WAKAYAMA.
There are many house agent or Property manager who speak English in Japan.
But most agent live or work Tokyo or Osaka.
Therefore they really don't know about WAKAYAMA and they can't help you.
While we really know about WAKAYAMA.
You can have a good time here and do your business.
You do your business, but you don't do anything.
we do all of things for you when you buy property in WAKAYAMA, JAPAN.
This KADA property is one of that.
Have look please.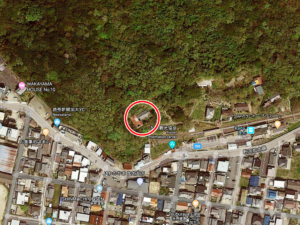 Price: 2,500,000 JPY
LAND
Land size: 366.94 square meters.
Drive way: Direct.
Land category: Residential land.
Land classification: Hill.
Connecting Road: Private.
Direction: East.
Pavement: Paved.

House
Construction: Wooden.
Building year: Unknown
Floor area: 69.42 square meters.
Bed room: unknown bed rooms.

Legal Restrictions
Building coverage ratio: 60%
Floor area ratio: 200%
City Planing: —

Household appliance
Water: Public
Gas: LPG
Waste water: Pit latrine (KUMITORI)
Car parking: Nothing
Present Conditions: Vacant
Payment and acceptance: Consultation.