Location:Kudoyama, Kudoyama-cho, Ito-gun, WAKAYAMA, JAPAN.
3 minutes by walk from KUDOYAMA Station, Nankai Koya-san line.
Kudoyama is one of famous tourist area in WAKAYAMA, JAPAN.
There is a great road to walk. It is one of KUMONO-KODO.
It is about 20 kilo meters far and takes about 5 hours.
KUDOYAMA is good for stay and walk to KOYA-SAN.
And it is very small litter old Japanese town. it looks old movies, but it's real.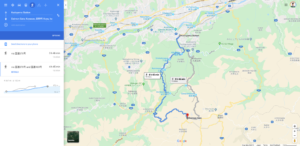 Price: 1,000,000 JPY
LAND
Land size: 46.7 square meters.
Drive way: Direct.
Land category: Residential land.
Land classification: Flat.
Connecting Road: Public.
Direction: East
Pavement: Paved.

House
Construction: Steel frame.
Building year: Unknown
Floor area: Unknown square meters.
3 floors above ground and 3 basement floors.
Bed room: More than 3 bed rooms.

Legal Restrictions
Building coverage ratio: —%
Floor area ratio: —%
City Planing: —

Household appliance
Water: Public
Gas: LPG
Waste water: Septic tank
Car parking: Nothing
Present Conditions: Vacant
Payment and acceptance: Simultaneous with payment