WAKAYAMA city is building a new road now.
It will be easy to get Isonoura beach from Kada Avenue.
There are some beach in WAKAYAMA city.
Kada and Isonoura is one of them.
Both of them there are fisherman port.
It means the beach is not wide.
But you can take fresh sea food at there.
The one of famous food is SHIRASU-DON.
It put the young of the sardine on the rice.
What is "SHIRASU-DON"?
See this "Where should we visit at KADA in WAKAYAMA?"
Property Detail
Location: MOTOWAKI, WAKAYAMA city, WAKAYAMA-KEN, Japan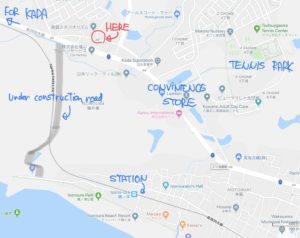 Price: 3,200,000 JPY
LAND
Land size: 109 square meters.
Drive way: Direct.
Land category: Residential land.
Land classification: Hill.
Connecting Road: Private.
Direction: South and West
Pavement: Paved.
House
Construction: Wooden
Building year: Fubeary, 1985
Floor area: 96.55 square meters.
Bed room: 5 bed rooms.
Legal Restrictions
Building coverage ratio: 60%
Floor area ratio: 200%
City Planing: Quasi-residential area
Household appliance
Water: Public
Gas: LPG
Waste water: Put on a western style on the old Japanese style.
Car parking: 1
Present Conditions: still living by owner
Payment and acceptance: you have to talk with the owner. Because they still live at there.