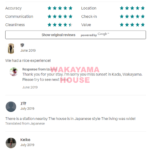 Thank you for the 5-STAR review!
We've got a 5-star review from our guests!
Thank you for staying at our place and giving us such a great review!
Great Accommodations for Train Travelers!
One is located near the NANKAI Wakayama-shi station.
Just a 5-minute walk from the station.
If you are planning to explore the city of Wakayama including the historical Wakayama Castle, this might be the best place to stay. Very convenient for visiting Namba (Osaka), too.
Another is located near the NANKAI Kada station.
This is also a 5-minute walk from the nearest station.
Pick whichever suits your trip style!
Great for drivers, too!
We have a FREE parking space right in front of the house!
Easy access to Shirahama, Koya-san, and Kumano.
About Kada
Kada is one of the most interesting areas in Wakayama.
You can enjoy fresh seafood…
You can relax on the beach…
Maybe you can take a stroll through the town of Kada explore the local atmosphere.
You can see some interesting architectures lined up on the streets.
Make sure not to miss the Awashima Shrine. You may find it a little spooky with all the Japanese dolls (mainly Hina dolls for the Girls Day Festival) crammed all over the precinct but it is worth a visit. Every year at March 3rd, a ceremony called Hina-Nagashi is held. All the dolls will be placed in little wooden boats and released out into the Kada Bay.
Relation
Where should we stay in Kada, WAKAYAMA?