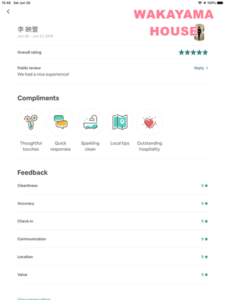 when you visit Osaka, you must visit and come to Kada, Wakayama.
Because you can see excellent sunset at there.
There is fish port and beach in Kada.
You can take a fresh sea food also.
We got a message from our guests.
She said
"We had a nice experience!"
We are happy now.
cause they come to Kada and stay our WAKAYAMA HOUSE.
It's easy to enjoy at the KADA beach.
you can use towel freely.
and take a shower before you get in our place.