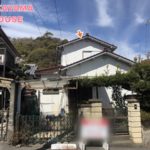 Price: 3,800,000 JPY  
LAND
Land size: 145.49 square meters.
Drive way: Direct.
Land category: Residential land.
Land classification: Hill.
Connecting Road: Public.
Direction: South and East.
Pavement: Paved.
House
Construction: Wooden.
Building year: January, 1983.
Architectural area: 91.91 square meters.
Bed room: 5 bed rooms.  
Legal Restrictions
Building coverage ratio: 50%.
Floor area ratio: 100%.
City Planing:  Area designated for urbanization.
category Ⅰ low building residential zone
Household appliance
Water: Public.
Gas: Public.
Waste water: Public.
Car parking: 1.
Present Conditions: Vacant.
Payment and acceptance: Consultation.