How many ramen shops in WAKAYAMA?
There is a lot of Ramen shops in WAKAYAMA, JAPAN.
When I search about Ramen shop on Google Map, it said there are 88 ramen shops in WAKAYAMA city.
There are MANY ramen shops and People in WAKAYAMA love Ramen.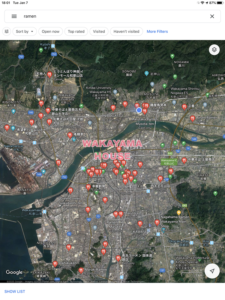 Wakayama city is small city. but there are over 80 ramen shops in this small city.
People in Wakayama, they need a car.
Becarse there are not many station, like Tokyo or Osaka.
When you visit here, you can take rent-a-car at the Aiport or Wakayama station or Nankai Wakayama-shi station.
It will be good for you to enjoy Ramen in Wakayama.
What's Wakayama Ramen?
There are many kind of Ramen shop.
It is one of different point.
They have common Ramen style some other city.
Like, Sapporo, Hakata and Yokohama and more.
But in Wakayama, they don't have common ramen style.
They have their own way.
Therefore we can not decide No.1 Wakayama Ramen.
They have different Ramen style.
Now I say, there is not "WAKAYAMA RAMEN".
There is "RAMEN in WAKAYAMA".
Then when you visit here.
You should enjoy some different type of ramen in WAKAYAMA.
Now I will show you Ramen in WAKAYAMA.
Which one do you want to try?