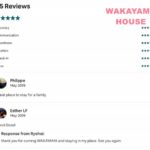 Wakayama House have free car parking.
It's easy to drive here in Japan.
And you can check in around midnight.
But be careful about to find a house.
If you don't know where it is, tell us.
We could pick you up at station.
Don't worry.
Because you book our place, we will give you a map.
There is a vending machine.
therefore you can find wakayama house No.7 easily.