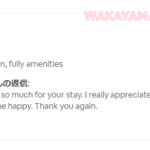 When you have a international license,
this is good location for you in WAKAYAMA.
it free car parking and easy to park.
There is not cloudy around here.
Your kids can play in a parking space also.
Furthermore,
There is river in front of property.
And there is play ground space next to the river.
The river name is "KINOKAWA".
Hence, you can enjoy fishing at the river, and you can play with your kids at there.
And you can enjoy the picknic also.
Finally it have good sunset in the evening.
When you come back airbnb early, it is kind of chance to see it.
Have a enjoy in WAKAYAMA.