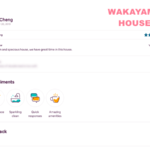 Cozy, clean and specious house in WAKAYAMA, JAPAN.
Our special guests Sheila Cheng stayed in our WAKAYAMA HOUSE.
She had a good time.
Furthermore she said Mattress is good.
Because it is too soft.
We are really glad to hear that.
We hope she and family / friends had a good time in WAKAYAMA and any other place in Japan.
When you want to have property for airbnb,
we can help you when you buy it.
buy property, get a license of hotel and some more.
Misaki Park Property.
https://wakayama-house.net/2019/01/20/misaki-koen-is-next-to-the-house/