We got a message from customer. "That's great. The host is nice."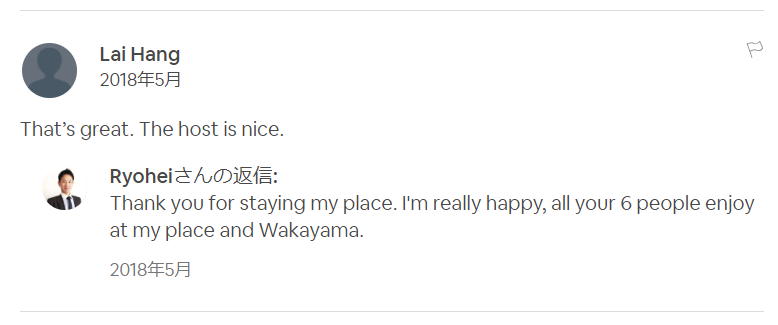 Thank you for the message. We really happy.
We are trying to become a most helpful, kindful airbnb (hotel) in WAKAYAMA.
Great for family place, are you looking for?
Our places have free parking.
You can park the car.
If your family is 4 to 6, it's good for your travel.
You don't care about the other customer. A group of accommodations per day.
Your baby and children can be happy. Ofcourse you also happy.
There is an Anpan-man in WAKAYAMA HOUSE No.7.
Maybe your babies will like him.
He is very cute. They can sleep at the beds.
Anpan-man is one of famous character in Japan.
His face is made of bread, anpan.
Anpan is one of bread, there are red bean jam inside.
You can take the at the most bakery in Japan.
If you want, I'll get it for you. Please ask us.
Please enjoy for your stay. Our place is one of popular house in Japan.
It's not too old, not new.
But it's good for stay and relax.
It's larger house than the other popular one.
And there is a kitchen, You can use that if you want.
If you worry about food for your babies, You want to cook for your baby.
You can cook in our place.
And our check out time is 6 p.m.
It's good for family.
Most family that have babies are busy in the morning.
Please keep slow and relax traveling Japan in our place.
Your babies also always happy.
Reference:"Good for stay with family and some friends in WAKAYAMA. accept 6 people"
━━━━━━━━━━━━━━━━━━━━
We will help your travel.
You can ask anything anytime.
+81-80-4347-5500
tanabe7360gakumon@gmail.com
WAKAYAMA HOUSE Parking Free