WAKAYAMA HOUSE CUSTOMER'S VOICE
WAKAYAMA HOUSE No.7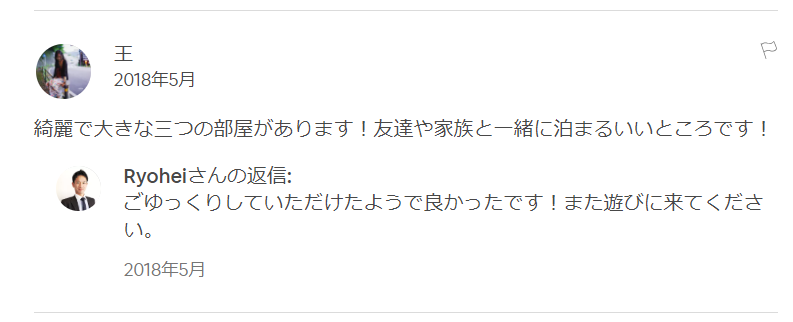 The house have 3 big and clean rooms.
It's good for staying with family or friends.
We can have a party and BBQ, play fireworks.
About "WAKAYAMA HOUSE No.7"
All customer's voice is Here.
---
Thank you for stay in Wakayama House No.7.
I'm really happy to got message from customer.
We have garden and 3 rooms.
It's good for friends or family.
Yu have a party and barbecue in the garden in front of the house.
And you can park cars at there.
You can park two 8-seaters car.
If you rent a car, you can park here.
It's easy to visit Shirahama, Kumano-kodo and Koya-san.
You will not rent a car, don't worry about that.
If I have a time, I'll take you around here.
Most day, I can go out with you to take Ramen around here at night.
I really hope you'll have a good time in Japan.
Please check airbnb and agoda.
If You can not book from those site, contact us please.
We have some houses around here.
We will try to keep house for you.
And if you need more help, please contact us.
Like rent a car, etc.
How to get Shirahama?
How to get Marina City?
and other things.
---
We are selling house for Chinese.
If you are interested in buy a house, contact us please.
We can find house for you together.
You can look Japanese old house and new house, if you want.
You can ask anything about real estate in Japan.