Close to Wakayama-shi Station.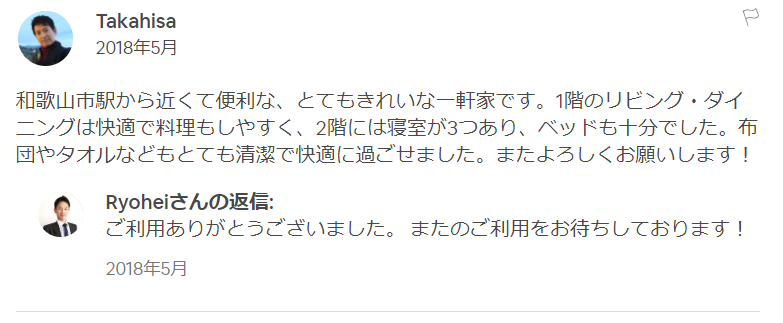 Close to Wakayama-shi Station
It's close to the station and very useful, and clean whole house.
The living room and dining room are nice, easy to cook.
There are three bed rooms.
They are good enough.
The beds and towels are clean.
We could stay very comfortable.
We will be back.
---
We got a message from the customer.
thank you so much.
We are so happy, we could make them happy.
They visited our place by car.
We have a free car parking.
It's good for sightseeing, fishing and visit some other places.
It's like Shirahama town, Kada, Kumano-kodo,
wakayama marina city and any other a lots of places.
Of course taking a ramen also.
If you like Japanese noodles (Ramen),
you should try Wakayama Ramen.
In Wakayama city, there are a lots of Ramen shops.
Our place is easy to park your car.
We have a large car parking.
You can park 2 eight-seaters cars.
You can vist here a lot of baggage, and go to shopping.
Then you can stay 6 or 7 people here.
There is some shops, you can visit there at night.
There are many Japanese and many tourist.
They are enjoy shopping.
And you can buy something by Internet, get them here.
If you need any help, ask me please.
Don't be mind.
Our place is close to the Station and KIX.
It's good for traveling.
Before you go back your country, visit here.
Go shopping and take hot springs (ONSEN).
"Free parking in front of hotel. Good for using car and family" in Wakayama Airbnb